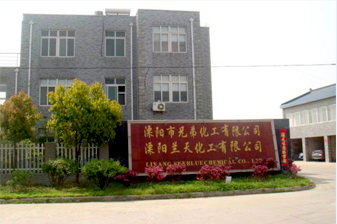 Liyang Brother Chemical Co., Ltd. is a private limited liability company, and incorporated Liyang Skyblue Chemical Co. Ltd, which has authorization of importing and exporting business. Our Company majors in reducing type dyes-indigo. It was founded in 1987, and is located in Jiuxian Town of Liyang City, on the eastern side of No.104 national highway. In Aug 2004, we established and invested an intact production line of indigo in Nuanquan industrial estate, Helan, Yinchuan. Later on, the whole production line was moved to Wulanbu Ave, Wusitai, Inner Mongolia, and the corporation was named as Inner Mongolia Brother Chemicals Co., Ltd.
The new corporation in Inner Mongolia occupies a field area of more then 200,000 square meters. Total investment was 350 million RMB, and the average indigo production capacity is 20,000 tons/yr. Whole factory reached advanced level on safety production, environmental protection, and automatic management all around the world.
The Company's main products are indigo series, which include common indigo, refined acid washing indigo powder and granular indigo. These meet different demands of clients. The reducing type dyes mainly used in the dying of denim. They have strengthened and brighter color for wear-resistant, and play a unique role that cannot be replaced by other dyes. Overseas sales are our main business, now product has been sold to 14-15 countries and regions around the world, which win favorable comments from users. Because of our effective management and good quality reputation, our company was well-known worldwide.
The production of indigo series needs strict requirements on effluent treatment and environmental protection, also on the treatment of smoke and dust. The environmental protection is especially crucial for the survival and development of enterprise. Brother Company has paid much attention on this aspect. And 2.2 million RMB has already been invested on the treatment of smoke, dust and effluent. It passed the examination and acceptance according to the provincial standard in 1997.
Products also enjoy pretty good reputation. It is an important guarantee for the market credit and survival of enterprise. With many years of production experience of indigo , and considering the chemical enterprises in product quality and sustainable operation, the new factory in Inner Mongolia has made a large amount of investment in safety, environmental protection and automatic control, to ensure the safety of the production process and the stability of product quality, and greatly reduce the labor cost. The product quality has also been improved, the original national standard of 94% indigo powder content has been increased to more than 96%.Its good strength, less impurities, is praised by domestic and foreign users.
Our company wholeheartedly welcomes all customers to visit and give advice.